We need your support now, please consider
helping… your gift will make great things happen.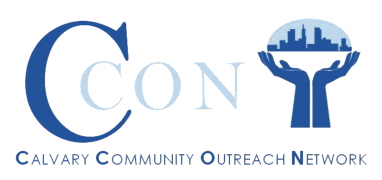 Individuals and families that reside in the
urban core continue to experience striking
health disparities.
Our purpose is to connect hurting
communities with knowledge and resources
that can help them improve their lives.
CCON Heals Neighborhoods
by attacking issues like
HIV/AIDS, violence, and COVID-19. The health of Kansas
Citians is very important to CCON.
We recruit, equip and mobilize members of the faith
community and other strategic partners to offer resources
in zip codes that need it the most.
CCON HEALS NEIGHBORHOODS
Health & Wellness CCON partners with churches medical
and academic organizations to address health inequities
faced by low-income and socially disadvantaged groups.
The Calvary Community Wellness Center
works to
provide structured fitness opportunities for those who do
not have the financial means to access fitness centers or
gyms in the area.
HEALTH AND WELLNESS
Food Insecurity
When COVID 19 surfaced, CCON moved
into action rallying over 80 community groups and
hundreds of volunteers to provide nutritious meals,
produce and personal protective equipment for youth and
families in need.
This work continues today because families are still hurting
and the need is great.
FOOD INSECURITY
BUILDING A HEALTHY
KANSAS CITY
CCON PROVIDES VITAL
SERVICES
Youth Development
The Helping Youth Plan for
Excellence program (

HYPE)

helps reduce violence by
providing safe spaces and ongoing emotional support.
Teens are encouraged to become part of the solution
through media and the performing arts in the newly
developed

HYPE Media Lab

.
Youth learn to create rich and meaningful content using
video, audio engineering and production.
YOUTH DEVELOPMENT
CCON envisions communities in which
disparities are eliminated and the inherent
dignity of all residents is recognized. CCON
improves the length and quality of life of
urban core Kansas City residents through
ongoing innovative education,
empowerment and partnerships.
WE NEED YOUR SUPPORT NOW,
PLEASE CONSIDER HELPING… YOUR
GIFT WILL MAKE GREAT THINGS
HAPPEN.
COVID-19 RESOURCES ARE AVAILABLE!
If you need help with your Utility Bills, Rent, need help
finding a Food Bank, Affording Childcare, need help
applying for Unemployment Insurance, or if you are looking
for a Covid-19 test please use the resources found here.
HYPE
WELLNESS CENTER
PROGRAMS & SERVICES
HYPE is a performing arts group sponsored by the Calvary
Community Outreach Network (CCON). CCON's mission is
to provide innovative programs & services designed to
enrich the lives of individuals and families living in urban
Kansas City.
The Calvary Community Wellness Center provides
structured fitness opportunities and information to youth
and families living and working in urban Kansas City. The
10,000 square foot warehouse located at 3002 Holmes
Street has been converted into a state of the art fitness
center to serve youth and families in the target group.
Health screenings, nutrition demonstrations and fitness
classes are among the program offerings.
We are proud to offer a number of programs and services
to our community including National Week of Prayer for
the Healing of AIDS, KC FAITH Initiative, KC Fun and Fitness
Day, Taking it to the Pews (TIPS), Helping Youth Plan for
Excellence (HYPE), Health Related Research Projects and so
much more. Click learn more for more information on all
of our programs and services.
SPONSOR CCON
Becoming an active donor is one of the most effective ways
we, as caring human beings, can make a difference within
the lives of others with the little that we have to offer.
Although CCON is a not-for-profit organization, we still
have the same needs as any large or small corporation in
the world. That means we need capital of all forms, as well
as intangible resources. If you would like to make any in-
kind or monetary donations to CCON, please mail your gift
to: Calvary Community Outreach Network 2940 Holmes
Street Kansas City, MO 64109. Or contact Athol Cason at
casona2940@gmail.com and join the ranks of some of
these great organizations in the crusade to assist people in
working toward a healthy life.
DONATE A GIFT OF ANY SIZE
Recognition as an Underwriting Sponsor
Logo prominently displayed on all event
collateral and online media
Opportunity to share pre-recorded
remarks at the Holiday Harvest
Celebration
Underwriter
$50,000
Recognized as a Community Champion
Sponsor
Logo prominently displayed on all event
collateral and online media
Community Champion
$25,000
Recognized as a Community Partnership
Sponsor
Logo displayed on all event collateral and
online media
Community Partnership
$10,000
Recognized as a Community Wellness
Sponsor
Logo displayed on all event collateral and
online media
Community Wellness
$5,000
Named as a Community Supporter
Sponsor
Line-listed on all event collateral and
online media
Community Supporter
$2,500
Named as a Host
Line-listed on all event collateral and
online media
Harvest Celebration Host
$1,000
Named as a Patron
Line-listed on all event collateral and
online media
Harvest Celebration Patron
$500
Named as a Virtual Sponsor
Line-listed on all event collateral and
online media
Virtual Sponsor
$250
Please accept my fully deductible donation:
PROGRAM SPONSORS